A Custom Wedding Gown Can Express Your Authentic Style—Without Breaking Your Bridal Budget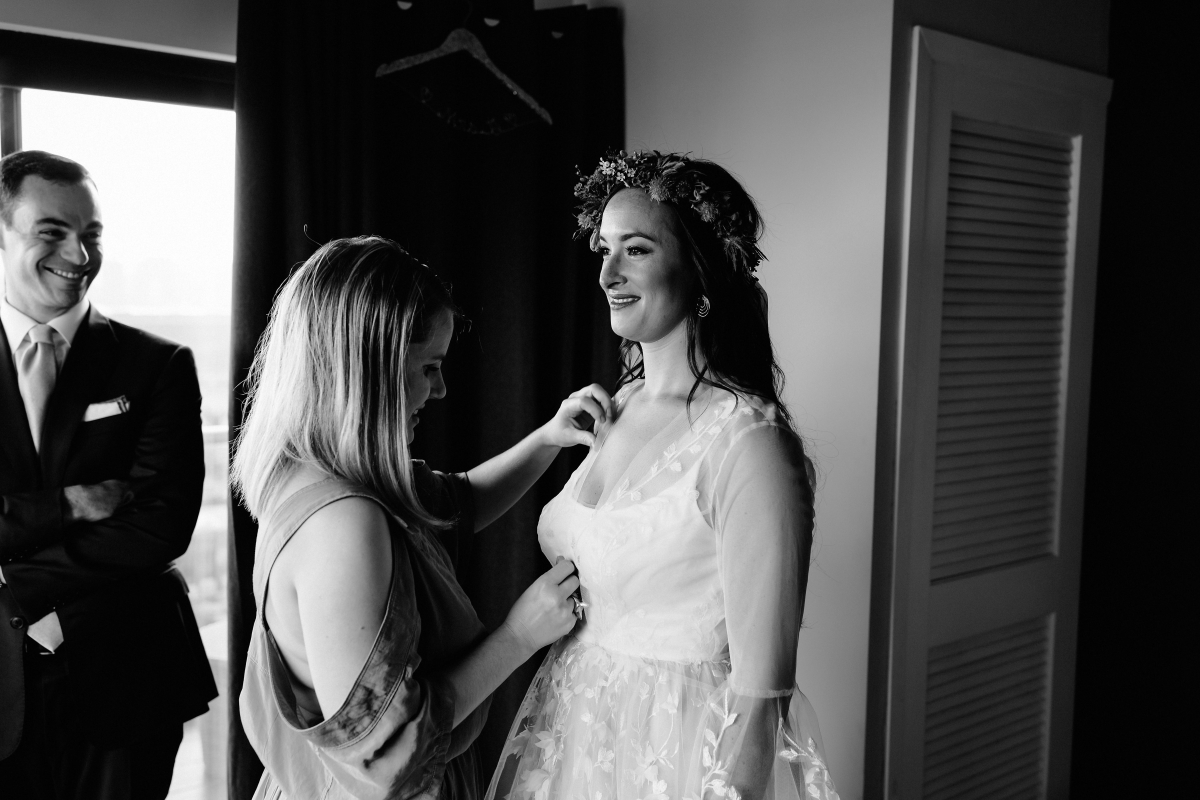 A custom dress may cost less than one that's off-the-rack when you factor in fewer alterations and the reduced amount of stress!
Expressing your unique style in every aspect of your wedding celebration is more on-trend than ever before. In keeping with this movement, a growing number of brides are considering custom gowns for their big day. Think that a custom wedding dress is beyond your budget? Think again! In fact, a custom dress may cost less than one that's off-the-rack when you factor in fewer alterations and the reduced amount of stress!
According to Hillary Anne O'Dell, owner of New York City's Hilandel custom bridal design house which specializes in gowns exclusively made in New York City from locally sourced Garment District fabrics and trims, "A lot of brides-to-be think they can't afford a custom dress and that is simply not the case. Our designs typically start at $2,500 and we can easily work within a specified budget range."
One of the most magical aspects of having a custom wedding dress made is that it allows you to feel truly authentic from the very beginning. "Our philosophy at Hilandel is that each bride should be the muse for her own dress," explained Hillary.
Another benefit of a custom dress is that it alleviates the need for brides to conform into a standard design template. "We proudly break the "off the rack" mold. We celebrate individuality and believe that it's each person's unique qualities, such as their shape, size, aesthetic, identity, culture, which make her beautiful," said Hillary. "It is not uncommon for brides to come to us after being disappointed in their hunt for the perfect wedding dress and wished that they had found us sooner."
According to Hillary, who works with brides all over the country, the idea that each bride is going to have an amazing "ah-ha" moment when they try on the perfect dress is not always realistic. "All of the happy tears, hugging, champagne is really the reality for a lucky few, most brides walk away feeling defeated and uneasy about planning the rest of their big day without locking down the dress they really want."
Hillary advises that when working with a designer to create a custom dress, it is imperative that you establish a relationship of trust and that you have the opportunity to be involved in every step of the process. "This will ensure that you get exactly what you want and that your ideas are translated into your perfect dress—a true extension of yourself."
At Hilandel, the design process begins with a consultation and a concept. "From there, we'll share a sketch and a price quote," said Hillary. "Moving forward, we then take care of the rest to make each dream a reality."
Once a custom wedding gown design is agreed upon, brides should expect needing to do at least three in-person fittings with their designer. "At Hilandel, not only do we want to create your perfect dress, we also want to help alleviate some of the pressure that surrounds planning a wedding," Hillary explained. Unlike a traditional retailer, we are able to have constant communication leading up to your wedding day. We can even help you on the day of to make sure everything is perfect."