What to Pack for Your Honeymoon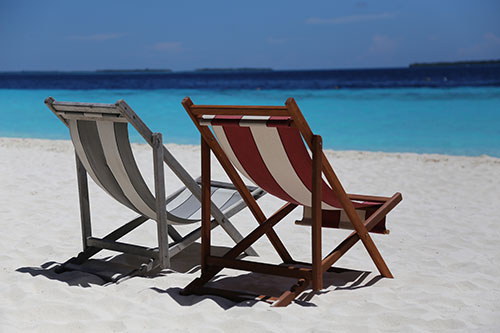 Packing the perfect bag for your honeymoon is easy with this list of what you need to pack (or leave behind) for your honeymoon.
The perfect honeymoon vacation all starts with a well-packed bag. After all, you do not want to get to your destination and discover that you've forgotten something important. At the same time, you don't want to lug around massive suitcases stuffed with things you'll never use. To help you strike the perfect balance, use this list of what you need to pack (or leave behind) for your honeymoon.
Tuck in your travel essentials. It is important that you have all of your travel basics stashed away well beforehand so that there is no confusion. Remember to bring passports, plane tickets, driver's licenses, visas (if applicable), credit cards, reservation confirmations (hotels) and any other important paperwork.
Tote along toiletry basics. Always carry a small bag with all of your toiletries with you so that they're easy to locate. Prescription medications, mini medical kits, hand sanitizer, sunblock, toothbrush, toothpaste, shampoo and conditioner, hairbrush or comb, soap or body wash and anything else you may need.
Pack destination-specific clothing and accessories. Vary your clothing based on the destination you're planning to go for your honeymoon. If you are going to a hot place carry sunblock, sun hats, sunglasses, loose clothes and swimwear. However, if you plan to romance in the cold always bring enough woolens, headgear, boots, and gloves.
Remember romantic must-haves. Besides the essentials, bring some romantic goodies such as special lingerie to surprise your spouse. An outfit to wear to dinner on your first night, plus perfume, and essential oils will create a special mood.
Bring along a few stylish dresses for romantic dinners. In addition bring a few pairs of comfortable ballet flats for sightseeing: they are easy to walk in, yet polished and graceful, a much better choice than sneakers or flip flops. You might also want to pack a couple of beautiful scarves to embellish a dress or a jeans-and-top ensemble.
Do all of your laundry a few days before you pack. Doing so will make sure that you have access to everything you need. If you're taking any special garments, have them professionally cleaned and bagged so that you can simply pop them into your suitcase.
Leave room in your suitcase! One last tip about packing for your honeymoon: you'll surely want to pick up a few things to bring home, so make sure you have room for any souvenirs you pick up along the way!
Wherever you're going, be sure to get packed and ready well in advance. Do some research on your destination so you know what to expect climate-wise and what documentation and vaccinations you'll need. Ensure your passport is updated and that your tickets are for the right day. By preparing ahead of time, all you'll need to do after your wedding is to sit back, order a flute of champagne and relax. Enjoy your honeymoon!