2018's Top Hairstyles for Brides and Bridesmaids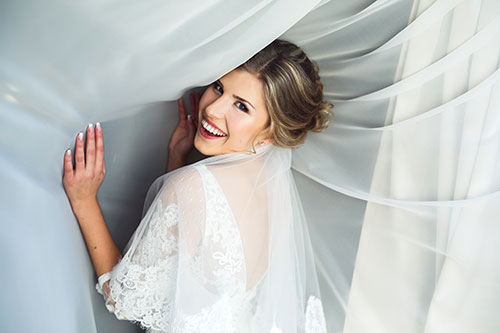 TheGuestTable.com has compiled this list of the top bridal hairstyles for 2018.
There are so many choices when it comes to wedding hairstyles, the process of choosing one can seem overwhelming. That's why TheGuestTable.com has compiled this list of the top bridal hairstyles for 2018.
The first step to choosing the right hairstyle for your wedding is to assess your hair type. If you have long hair, you can try beautiful braided patterns, sleek, glossy waves, smooth curls or asymmetrical details. Wedding hairstyles for medium hair may also be styled as stunning updos or charming down-dos. On the other hand, short wedding hairstyles are all about texture and lovely hair accessories.
The Top Bridal Hairstyles for 2018:
The relaxed wedding updo. This wedding hairstyle frames the face softly and features a beautiful back view. With a sparkly accessory and some curly volume at the back and sides, the look is almost angelic.
A twisted treat for medium hair. Part your hair into as various horizontal sections and twist each as you like you're making a topsy tail. You can finish off with a chignon and adorn with some fresh flowers.
The "Gibson Tuck" hairstyle. You can never go wrong with the elegant Gibson Tuck. The look can be modernized with slightly relaxed hair and an ornate accessory, but its classy vintage feel is still there.
An asymmetrical curly style. Using asymmetrical twists and pinning them can allow you to create a beautiful bridal style with half your hair up and half down.
The bubble updo. This fancy and chic hairstyle is perfect for fashionable brides. When considering wedding hair jewelry, turn on your inner stylist and choose pieces that express your personality.
A heart braid. This hairstyle will become the most unforgettable attribute of your wedding. It's elegant, luxurious and extraordinary. You can use hair extensions if you need longer hair.
The classic "topknot" bun. This is a crown for the queen of the day using beautifully styled hair.
Lastly, no matter which hairstyle you choose for your wedding, make sure you love it. Have your stylist practice beforehand, so there are no surprises the morning of your big day. Consider having different hairstyles from your bridesmaids to really stand out. With this list of the top wedding hairstyles for 2018, you should be able to find a hairstyle that is perfect for you and everyone in your bridal party.