How to Arrange Your Wedding Seating Chart, Without Hurting Any Feelings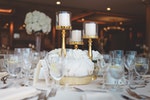 Start Your Fuss-Free, No Tears Wedding Plan Today
Can you imagine a sit down wedding reception without a seating chart? It would be absolute chaos. Like musical chairs, but for champagne drinking adults. That is why we highly recommend that you start to plan your wedding seating early, and consider the etiquette needed in order to pull off a successful reception. Many wedding venues actually require a seating chart. So it's vital that you put aside the idea that the task is daunting, and realize how easy it can be.
Start Your Fuss-Free, No Tears Wedding Plan Today
Send out RSVP's as early as possible
Planning any event would be pretty tricky if you didn't know who was attending. Sending, and receiving RSVP's back is a critical task when arranging your seating chart, as it shapes the whole flow of the wedding plan. Give your guests plenty of time to respond, but also assign someone responsible (mom, of course) to call around and chase up late responders. Remember you can ask your guests to RSVP directly from The Guest Table, so all of your info can be effortlessly collected in one place.
Determine Table Shapes & Sizes
The size of the reception room at your wedding venue will dictate your seating chart to some extent, but the shape of the tables will be an important decision you'll need to make. Maybe you want family-style long tables so you can fit more guests in? Or round tables, to make it easier for everyone to chat? The size and shape of your tables will determine the amount of people you can fit around it, so decide early and carefully.
Allow Your Guests to Seat Themselves
Most people like the feeling of choice, especially when it comes to where they sit. What you need to do however is decide how much choice you are willing to give. The benefit of using an online wedding seating plan like The Guest Table is that you can choose how people RSVP. They can simply register their intention to attend. Or you can give them the option to reserve a seat at an assigned table, or even choose any available seat in the house. Just make sure to assign the most important tables first.
Compartmentalize Your Guests into Groups
This piece of wedding seating etiquette is especially useful if you plan on selecting your guests seat for them, or if you're arranging by table. Look at your list of guests and decide where you know them from, and who else falls into that group. Then assign parts of each group to certain tables within your wedding seating chart. Knowing at least one or two people on the table will help to ease any nerves, and promote conversation with everyone. But obviously, if your friend Sarah from the gym, has never liked Laura, for example… don't sit any of this group near each other. Be tactful and mindful of people's history.
Get the Family Involved Early On
If you're seating guests by table or seat, and don't know where to sit your parents' friends, or extended family, enlist some help. We bet your mom and Dad wouldn't mind lending a hand! It's also a nice way to involve your parents in the plan for the wedding in a very real way.
No Wedding is the Same
Much of the advice you read online when planning your wedding is very general, and this is because every big day is unique. When it comes to your wedding seating chart, this is especially true. Traditionally, the mom's and Dad's sit at the top table with the bride and groom. But what about if your parents are divorced? What if you don't speak to your parents? What if your parents don't speak to each other? Every family is different, and some are more complex than others. But it's important to remember that this is your day, and you need to strike a balance between making your guests happy, and yourself.
If you know that certain family members will simply not be civil with each other, either make sure they are seated far apart, or leave someone off the seating chart. They probably won't remember your big day, but you'll certainly remember them if they ruin it for you.
Say No to the Singles Table
It may seem like the easiest option, but adding a singles table to your wedding seating plan can be embarrassing for everyone. If you believe that your wedding is the perfect moment to bring your ex-roommate and your assistant manager together, subtly sit them on a table next to each other with likeminded couples. That way they'll get to know one another in a more calm and measured way, compared to the possible antics of a hyped-up singles table.
We hope that we have boosted your enthusiasm for wedding planning and informed you on seating etiquette, but let's not stop now! Having an easy-to-use wedding seating chart when planning your big day is very important. That is why our Guest Table online seating chart platform has been specifically designed to use a simple drag and drop system. Simply import your guest list and then place individuals yourself on the exact floor plan of your reception. Or invite your loved ones to reserve their own seats at the table. You can then print, share or integrate your wedding seating plan into your big day however you choose. Find out exactly how it works here and if you would like any more information please get in touch here.