Avoid a Bridal Catastrophe with this DIY Wedding Day Emergency Kit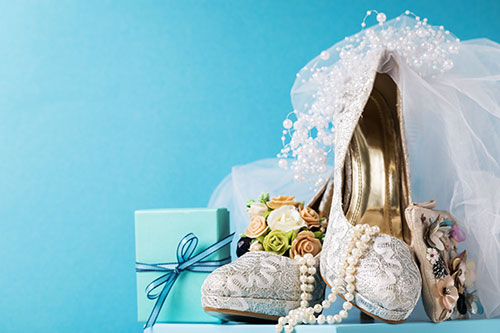 The Guest Table offers tips to help brides avoid wedding day disasters with a DIY Wedding Emergency Kit.
In your dreams, your wedding day is going to be perfect, but if you are like many brides, in the back of your mind you may be bracing yourself for many wedding "what-ifs." What if, for example, an unexpected disaster pops up during the course of your hectic wedding day? No need to worry! TheGuestTable.com has got you covered with a DIY Wedding Day Emergency Kit. Simply gather the following essentials to ensure that your wedding day will be even more perfect!
A sewing kit. Your wedding attire is going to be in the center of attention, so being
prepared for any clothing mishaps is important. A very affordable and compact option is a sewing kit such asthose you find at discount stores. They usually contain a bundle of resources that can easily fix your clothing woes such as needles, thread, safety-pins, and scissors. Rips and tears will be easily mended, along with your worries!
Essential toiletries. Stashing toiletries such as deodorant, perfume, and mints in your emergency kit is definitely a good idea. These products are likely to be in demand throughout your wedding day. From dancing to eating all night, these items will help you and your bridal party stay fresh for all of the mingling you'll be doing. So spritz on some perfume, swipe on a layer of deodorant, savor some mints every few hours to feel refreshed. Affordable, travel-sized toiletries for this purpose are easy to find at your local drugstore.
Pain relievers. Don't let a headache or any other pain ruin wedding day. Consider stashing ibuprofen or acetaminophen in your DIY Wedding Day Emergency Kit along with odorless muscle cream and other first aid staples such as band aids.
Flat shoes. From pre-wedding activities such as photographs, to the ceremony, then dinner and dancing, a wedding can definitely take a toll on your feet, especially in uncomfortable high heels. Relieve your legs by putting a comfortable yet stylish flat-soled alternative to your painful high heels in your emergency bag. Find a pair of flats you love...they come in all different colors, materials, and some even have beautiful
embellishments. When it's time to dance, slip on your flats and groove the night away with no discomfort!
There you have it, your DIY Wedding Day Emergency Kit! It has everything you need to avoid wedding day disasters so that you can focus on enjoying a day to remember. If you haven't already, check out our no-stress online guest seating chart. It's an easy way to avoid one other potential wedding pitfall—unhappy guests! Use it along with your DIY emergency kit to ensure that your wedding day is all that you dreamed it would be.