Planning a Backyard Wedding? Use These Five Tips to Make It Absolutely Perfect!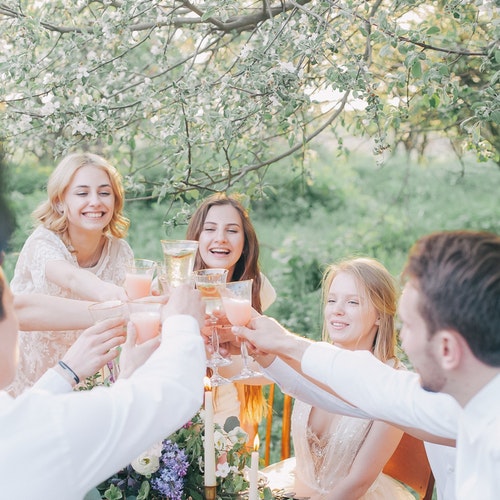 Having a backyard wedding can save a considerable chunk of your wedding budget, these tips can help you make the most of it.
Having a backyard wedding in the summer or fall has many perks. Not the least of which is that you can save a considerable chunk of your wedding budget by having an intimate and beautiful wedding at your residence (or that of your better half) instead of paying for an event hall. Other benefits? You'll likely be much more comfortable, have more time to get ready and have fewer restrictions on what you can do at your venue.
If a backyard wedding is in your future, there are some key considerations you'll want to incorporate into your plan:
1. Be considerate of your neighbors. If you aren't inviting your neighbors, then at least let them know your wedding date and that there may be noise and/or music during your reception, this will give them a heads up and the opportunity to plan their own activities around your event.
2.Plan for Porta Potties. If you are having a wedding with more than 20 people, it is likely you are going to need to have bathroom facilities beyond those in the house where your wedding is taking place. You can rent fancy portable toilets if the thought of a blue Porta Potty at your wedding just doesn't jive with what you have in mind.
3. Hire help to haul your supplies. One of the downsides of a backyard wedding? You don't have help like you would at a regular wedding venue to move things and set up your tables and chairs for your ceremony and reception, etc. This is where hiring some college-age students or professional event staff can be worth it. Don't forget to ask them to stay (or come back) for the wedding clean up—by the time everything is done, you'll be happy that you did!
4. Plan your backyard wedding seating plan in advance. While having a backyard wedding certainly provides a more relaxed vibe, you don't want your guests to have to scramble for seats or sit somewhere they don't feel comfortable. To make sure that your backyard wedding is perfect, you'll want to create a seating chart, and possibly even allow your guests to choose their own seats. Check out our online seating chart tool to get started. [here]
5. Speaking of guests—define your guest list. Due to the more relaxed nature of backyard weddings, many guests may not give a second though to whether it is okay to bring a pet or their children. For this reason, be clear as to whether this is what you have in mind on your invitations. If need be, you can also send a friendly email reminder stating whether pets and kids are allowed.
There you have it, five key tips to keep in mind when you plan a backyard wedding. Keep these pointers in mind to ensure that when it comes to your wedding, there truly is, "No place like home!"